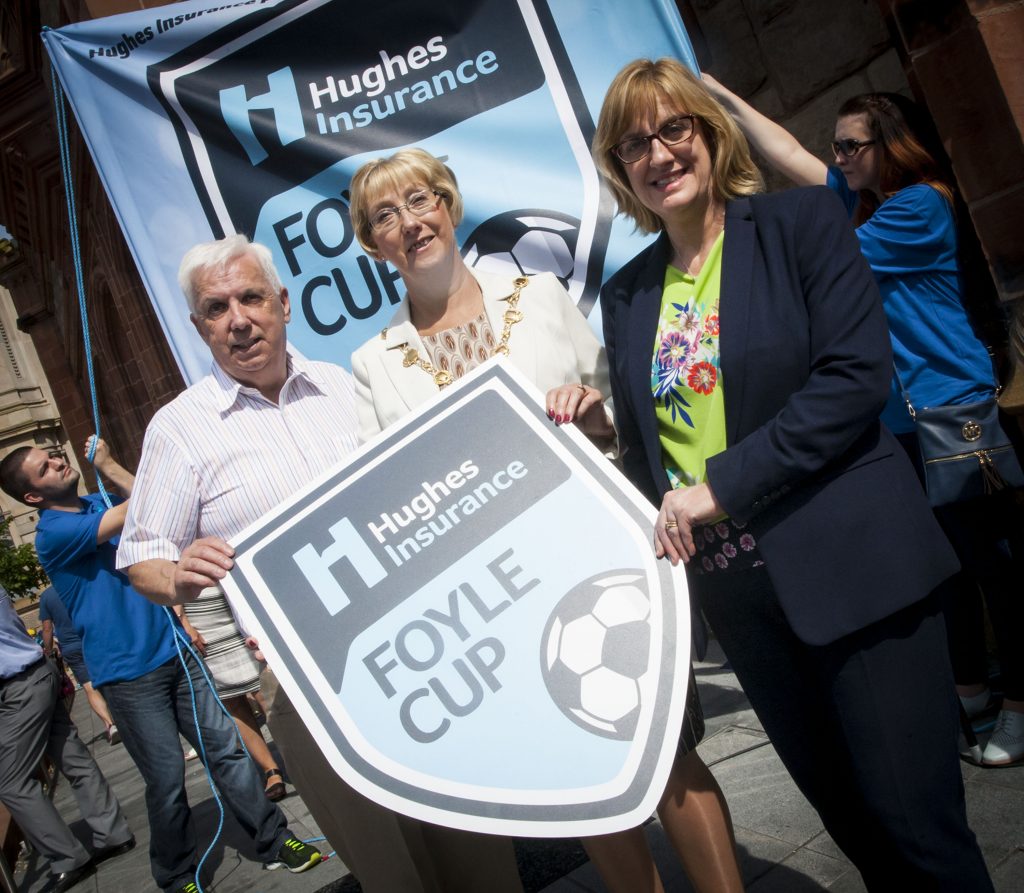 The Hughes Insurance Foyle Cup continued today (Tuesday)  and after the huge amount of games on Monday, Tuesday Morning was time for a break as each of the 310 teams took part in a Mayoral Welcome Parade. The Mayor of Derry & Strabane District Council City Alderman Hilary McClintock, welcomed the parade in the Guildhall Square.
The parade commenced at Magee Campus in soaring temperatures with over 4,500 kids walking the short distance to the Guildhall Square. Such was the length of the parade that it took almost 35minutes for all the participants to reach their destination in what was a most colourful spectacles, the many bright track suited colours happily and joyfully parading throughout the city for the Official welcome.
In welcoming the players, coaches and parents to the city, The Mayor expressed her delight that the Hughes Insurance Foyle Cup was welcoming its biggest ever entry of 310 teams, all of whom were most welcome to the area. " Not only is the Hughes Insurance Foyle Cup good in terms of fact it was developing undoubted football skills in young players, encouraging kids to follow a healthy lifestyle but in its own way was very much contributing to building good relations as kids of all colours, creeds, religion happily parade together and play football together all week long."  She further added that the event was a huge boost for the North West area with in excess of 12,000 bed-nights booked and an economic spend in the local economy of in excess of £1,600, 000.
In wishing teams every success during the week the Mayor concluded, " This event has been a passport into professional football for so many local kids –local  players such as Darron Gibson, James Mc Clean, Paddy Mc Court, Dean Shields,  Daniel Lafferty, Saul Deeney, Shane Duffy,  Shane Ferguson, Shay Givens , Seamus Colman and so many more – and I know there are future international stars present today at this parade and playing in the Hughes Insurance Foyle Cup during this week."
Matches continue on Wednesday at venues across Derry, Strabane, Limavady, Buncrana, Dungiven, Letterkenny & Moville.  Follow the tournament by downloading the Foyle Cup App in the Android and Apple App stores or by visiting http://foylecup.com
The Hughes Insurance Foyle Cup is supported by by Derry City and Strabane District Council, Causeway Coast & Glens Borough Council,  Department for Communities, Tourism NI, Executive Office, Hughes Insurance, Seagate, Inner City Trust, Brunswick Superbowl  and Derry Credit Union.
Reports by Dermot Libby
The second day of the Hughes Insurance Foyle Cup began in spectacular fashion with a parade of  310 teams, referees and officials through the streets of Derry. After the carnival atmosphere it was down to the business of competing. Cheshire club, Altrincham FC played Strabane Athletic at Oakland Park. Both teams earned a point in an entertaining draw. Altrincham scored in the early stages as long ball cleared out of defence by Luke McMurray allowed Alex Johnson to outpace the Strabane defence an slide the ball past the advancing goalkeeper. Deep into the second half Strabane athletic scored through their talented striker, Montel Atoge. A cross from fullback Sean O'Donnell was dispatched into the corner of the net. Athletic had a chance to grab the winner but Atoge's shot sailed wide. Both teams go into their final game today looking for their first win.
Scottish champions Celtic FC got their campaign off to a winning start with a lucky win over Donegal Schoolboys in the U14 section. Celtic dominated possession in the opening stages with star player, Karamoko Dembele causing havoc on the left flank. Donegal soon settled and had the ball in the net only for an offside flag to deny them the opener. In the second half the Schoolboys made a real game of it but found themselves a goal behind with five minutes remaining. Owen Moffat stepped up to fire home a brilliant free kick from 25 yards. Donegal went close on three occasions in the final minutes and can consider themselves very unlucky to lose to their illustrious opponents.
Results from earlier today:
Under 9                                                                                                                   
Don Boscos FC 2 – 0 Hillsborough Boy Colts, Ballyraine FC 4 – 2 Phoenix FC, Illistrin FC 1 – 0 Ballymoor FC, Foyle Harps 0 – 0 Magherafelt Sky Blues, Swilly Rovers FC 2 – 4 Tristar, Maiden City Academy 4 – 2 Redcastle United, Oxford FC 3 – 0 Glentoran FC, FS Easton 0 – 2 Eglinton Eagles, Strabane Athletic 2 – 2 Aileach FC, Culmore FC – Roe Valley YFC, Lagan Harps 2 – 1 Sion Swifts, FS Eastdon Colts 1 – 0 Letterkenny Rovers, Clooney Soccer Schools – Ballymoney Youth Academy, Kilmac Academy – Tristar Colts, Ballinamallard – Oxford Colts.
Under 10
Strabane Ath 1 – 3 Glentoran FC, Bright Stars 2 – 2 Hillsborough Boys, Oxford FC 1 – 0 Roe Valley Y, Top of The Hill Celtic 1 – 1 Northend U, Culmore FC 0 – 1 Coleraine Colts, FC Corinthians 0 – 4 Ballinamallard FC, FS Eastdon – Killea FC, Hillsborough Boys – Strabane Ath, Lagan Harps 1 – 0 Lifford C, Northend U 1 – 3 Oxford FC, Quigley Point S 2 – 1 FS Eastdon Jun, Ballinamallard FC 4 – 0 Culmore FC, Killea FC 0 – 4 Bright Stars, Glentoran FC 4 – 2 B Peacock YL, Lifford C 0 – 1 Top of The Hill Celtic, Roe Valley Y 1 – 1 Dungannon Utd, FS Eastdon Jun – FC Corinthians, Coleraine Colts – Maiden City Ac, Foyle Harps – Larne FC, Oak Ath – Oliver Pkt, Don Boscos – Limavady Utd, Tristar Colts – Oliver Pkt C, Elginton Eagles – Oxford United Colts, Balymoor FC – Ballycastle Utd, Irish Rovers – Kilmac Acad, Oliver Pkt – Foyle Harps, Ballyraine FC – Alieach FC, Oliver Pkt C – Don Boscos, Illistrin FC – FS Eastdon C, Ballycastle Utd –  Eglinton Eagles.
Under 11
Oxford Utd 0 – 2 Dungannon Utd, Sth Donegal Sboys 0 – 0 Oliver Pkt, Eglinton Eagles 1 – 0 Glenavon FC, Inishowen YL 1 – 0 St Marys FC, Strabane Ath 1 – 6 TOTH Celtic, Letterkenny R 2 – 0 Albion Stars, Ballymoney Utd 1 – 0 Institute FC, Sion Swifts 0 – 0 Northend U, Roe Valley FC 1 – 0 Clooney SS, Oak Athletic 0 – 6 Warrenpoint Town, Roe Valley Colts 0 – 3 Carniny Y, Tristar 7 – 0 Coleraine Oly, Ballybofey Utd 0 – 0 Lisburn Y, Tristar Colts 1 – 2 NArds Dist PS, Lagan Harps 0 – 1 Mfelt S Blues, Ballinamallard FC 2 – 0 TrojansFC, Ballymoor 0 – 2 Lisbellaw Utd, Olive Pkt Jun 0 – 8 Rosario Y, Foyle Harps 0 – 3 B Peacock YL, Kilmac Acad 2 – 0 Oliver PK Colt, Culmore 0 – 2 Dergview Utd, FS Eastdon 1 – 0 Coleraine FC, Don Boscos FC – Landsdowne Boys, Maiden City Acad – Kildrum FC
Under 12
Braniel FC 0 – 9 Derry Colts, Donegal Sboys 3 – 0 Foyle Harps, Cookstown Youth – Rosarion Y, Ballycastle Utd 2 – 3 Tristar, LKenny N West 1 – 3 Glenavon FC, Mountjoy U – Ballymoor, Glentoran FC 16 – 0 B Peacock YL, Ballymoney Y 2 – 2 East Donegal
Under 13
B Peacock Y 1 – 1 Derry Colts, Finn Harps – Warrenpoint Tn., Roe Valley 4 – 0 Institute FC, Arklow Town 5 – 2 Killen Rangers, Ballymena Utd 2 – 0 St Marys FC, Foyle Harps 1 –  3 Donegal Sboys, Maiden City Ac 4 – 1 Newell FC, Magherafelt SBI – Inishowen YL, Sion Swifts 1 – 4 Oliver Pkt, Strabane Ath 1 – 1 Altrincham FC, Oliver Pk Colts 0 – 3 Ballymoney Y, Oxford Utd 2 – 1 Crusaders FC
Under 14
Letterkenny R 0 v 0 FD Suomi, Finn Harps 4 v 0 Institute FC, Carmoney Y 1 v 2 Derry Colts